Discover how nurses can boost their careers and income by teaching nursing continuing education (CE) courses in our latest blog. Nursing is a constantly evolving field, and staying up-to-date is crucial. But did you know you can turn your knowledge into a lucrative income source? We explore five rewarding paths, from developing your own CE courses to partnering with online providers and even teaching at nursing schools. Whether you're a seasoned nurse or just starting, these opportunities can help you grow professionally and financially. Dive into the world of teaching nursing CE and enrich your career in this insightful guide
Nursing is a field that undergoes continuous evolution due to ongoing research, advancements in technology, and the adoption of best practices. To ensure they deliver top-notch care to patients, nurses need to actively participate in ongoing education. Surprisingly, many nurses are unaware of the potential to use their expertise and experience as a source of income by becoming instructors for nursing continuing education. In this article, we will delve into five fulfilling opportunities for nurses to generate income by teaching continuing education courses in nursing.
1. Develop and Offer Your Own CE Courses
One of the most direct routes to earning income as a nurse is by developing and offering your own CE courses. Start by identifying an area of expertise or a niche within nursing that you're both passionate about and knowledgeable in. This could encompass a wide range of topics, from wound care management to pediatric nursing or advanced cardiac life support (ACLS).

Once you've chosen a topic, embark on the process of creating comprehensive course materials. These materials should include engaging lectures, meaningful assignments, and effective assessments that ensure your students acquire valuable skills and knowledge. To attract participants, you can promote your course through various channels, such as nursing organizations, social media platforms, or your professional network. Don't forget to charge a reasonable fee for enrollment. As more nurses sign up for your course and experience its benefits, your income will naturally grow.
2. Partner with Online CE Providers
Numerous online platforms and organizations specialize in offering nursing continuing education courses. As an experienced nurse, you can collaborate with these providers as a subject matter expert or even as a course creator. Many of these platforms actively seek individuals like you to develop high-quality content and teach courses.

By partnering with established CE providers, you can tap into their existing user base and marketing efforts, saving you the hassle of managing the logistics of course hosting and promotion. You'll receive a portion of the course fees in recognition of your expertise and teaching efforts, providing a steady source of income.
3. Become a CE Course Instructor for Nursing Schools
Many nursing schools and universities understand the importance of offering continuing education programs for nurses seeking to advance their skills and knowledge. These institutions often hire experienced nurses as part-time or adjunct faculty members to teach CE courses.

To explore this opportunity, check with local nursing schools or explore online teaching options. As an instructor, you can earn a consistent income by teaching CE courses, either on campus or through distance learning platforms.
4. Join Nursing Associations
Professional nursing associations are known for organizing conferences, seminars, and workshops that include CE components. Becoming a presenter at these events can be a highly lucrative way to share your knowledge and earn income while also expanding your professional network.

To get started, join relevant nursing associations and submit proposals to present at their conferences or workshops. If your proposal is accepted, you'll typically receive an honorarium or stipend for your time and expertise. Additionally, presenting at these events can open doors to valuable networking opportunities with other professionals in your field.
5. Offer In-Person Workshops and Seminars
While online education has gained popularity, there remains a substantial demand for in-person nursing CE workshops and seminars. Consider taking advantage of this demand by offering hands-on workshops or interactive seminars in your area of expertise.

To promote your workshops, target local healthcare facilities, hospitals, and clinics. Charge a fee for attendance, and as word-of-mouth spreads about the quality of your teaching, you may find your workshops in high demand. These in-person sessions can offer a unique and engaging learning experience that many nurses find valuable.

In summary, teaching nursing continuing education courses is not only a rewarding way to give back to the profession but also an excellent opportunity to earn additional income. Whether you choose to develop your own courses, partner with online providers, teach for nursing schools, present at conferences, or offer in-person workshops, there are various paths to monetizing your nursing expertise. By sharing your knowledge and helping other nurses advance their skills, you can contribute significantly to the growth and improvement of the nursing profession while bolstering your financial stability.

As nursing continues to evolve, embracing these opportunities can empower you to not only stay current but thrive in your career while positively impacting the nursing community. Moreover, the financial benefits derived from teaching nursing CE can provide you with additional financial security and freedom. So, why not explore these avenues and unlock the potential for both personal and financial growth within your nursing career? It's time to embark on this fulfilling journey that combines education, empowerment, and economic advancement.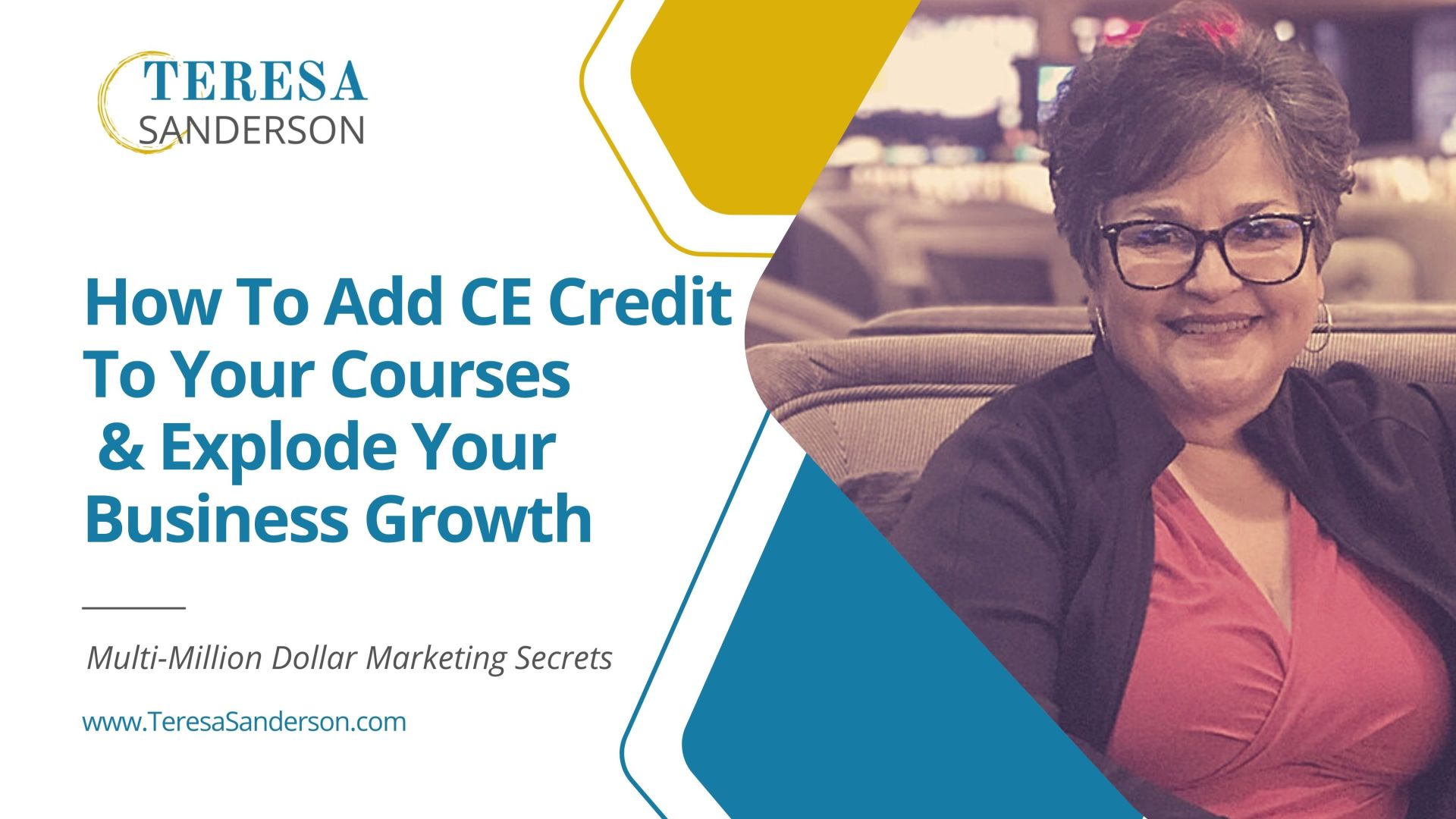 HOW I GREW MY HOSPICE TO $3M
WITH JUST A $6K INVESTMENT
Grab This Free Training!