Conferences are an engaging way to provide nursing continuing education. These events provide opportunities to learn, network with other professionals, and earn continuing education credits. If you are planning a nursing continuing education conference, you'll love this simple 8 step guide to help ensure your event is a success.
Step 1: Define Your Conference Goals and Objectives
Before you begin planning your conference, it is important to define your goals and objectives. Consider what you hope to achieve through the conference and the type of learning experiences you want to provide for participants. You may want to provide updates on the latest clinical updates, offer networking opportunities, or provide professional development opportunities. By clearly defining your conference goals and objectives you set the stage for developing a winning conference.
Step 2: Establish a Planning Committee

Once you have established your conference goals and objectives, it is time to establish a planning committee. This group should consist of individuals with expertise in conference planning, nursing practice, and continuing education. The committee should meet regularly to plan and coordinate all aspects of the conference, including scheduling, speakers, venues, and marketing.
Step 3: Choose Your Venue
Choosing the right venue is critical to the success of your conference. You will want to choose a location that is easily accessible to attendees and has adequate meeting space for your conference needs. Additionally, consider factors such as audio/visual technology needs, catering options, parking, hotel accommodations, and accessibility for individuals with disabilities.
Step 4: Select Your Speakers and Topics
Know that the speakers and topics you choose for your conference will determine the success of the event. Consider inviting experts in nursing practice, research, and education to speak. Choose topics that are relevant and engaging for attendees, and that align with your conference goals and objectives. This is a good time to determine the number of contact hours that will be awarded at the conference. It will be important to gather all speaker CV's, program outlines & objectives, etc. to ensure good record keeping for your continuing education program.
Step 5: Develop a Conference Schedule
Once you have selected your speakers and topics, it is time to develop a conference schedule. This should include a detailed agenda, including the time and location of each session, speaker information, and any breaks or networking opportunities.
Step 6: Market Your Conference
You will want to effectively market your conference to ensure it is well-attended. One great way to promote your conference is by sharing it with all of your business partners and offering them sponsorship opportunities. You may also promote your event through social media, email marketing, and targeted advertising. You may also want to consider offering early bird registration discounts or other incentives to encourage attendance. Be sure to include information in your marketing materials about nursing continuing education credit that will be awarded to conference attendees. This adds massive value to your conference and also sets you apart as an authority in your field.
Step 7: Prepare for the Conference
In the weeks leading up to the conference, it is important to finalize all details, such as catering, audiovisual equipment, and speaker accommodations. Additionally, prepare informational materials, such as conference brochures, schedules, and handouts.
Step 8: Evaluate Your Conference
Evaluate your event to determine its success. Ask participants to evaluate the conference once it has ended. Analyzing attendance data and reviewing the financial performance of the event are also excellent evaluation measures. This information can be used to improve future conferences and ensure continued success.
Hosting a nursing continuing education conference requires careful planning, attention to detail, and a commitment to providing attendees with high-quality educational experiences. By following these 8 steps, you can plan a successful conference that meets the needs of your attendees and furthers the goals of the nursing profession.
Register now for the Create A Nursing CE Course Workshop & Create Your 1st Nursing CE Course In Just 5 Days! Here's what you get: 5 days of training, 5.0 contact hours, my personal system and step by step support! Learn more at https://www.TeresaSanderson.com/ce-workshop-reg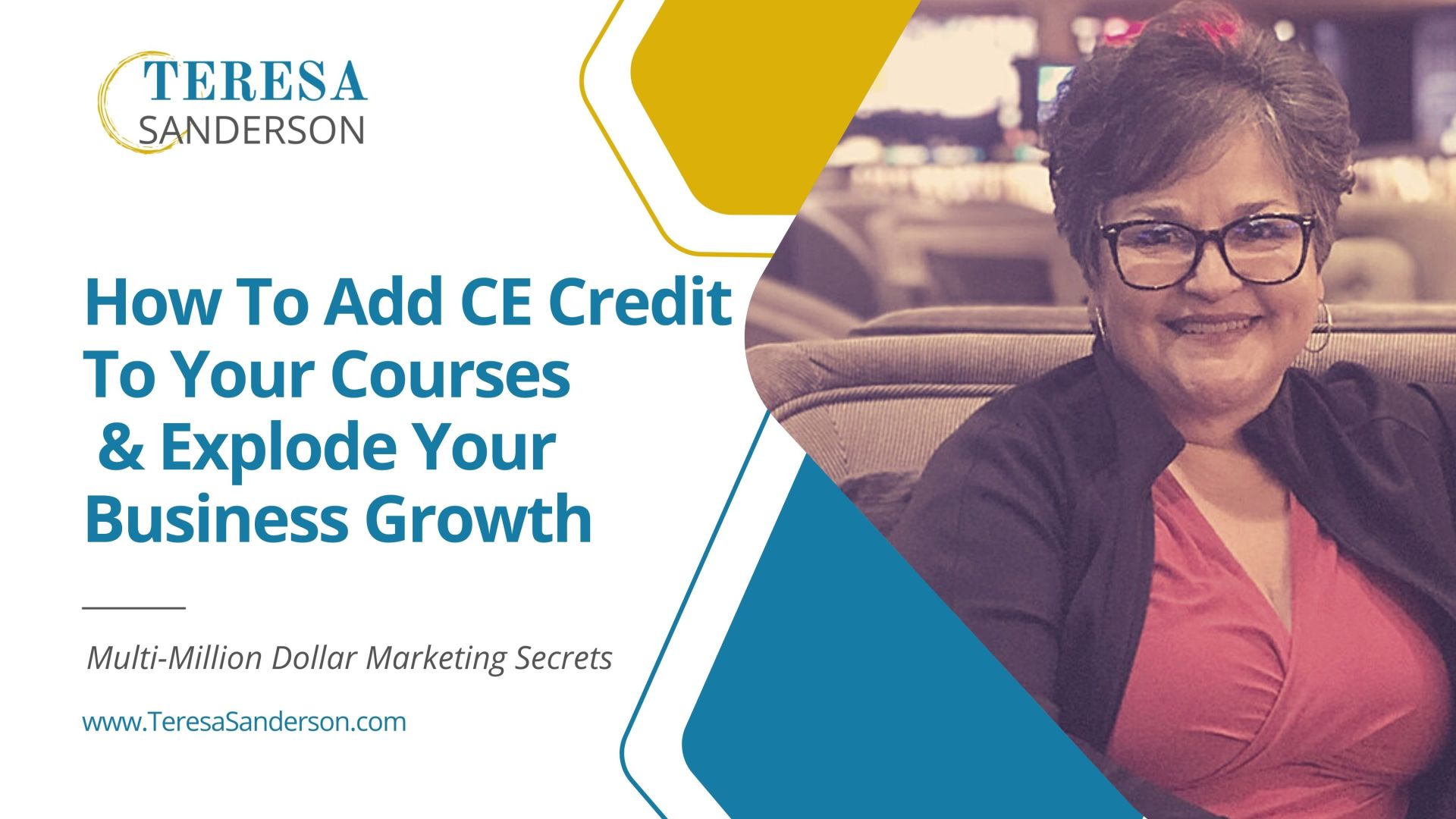 HOW I GREW MY HOSPICE TO $3M
WITH JUST A $6K INVESTMENT
Grab This Free Training!